Fine Devices Department
Fine Device
The fine device surface-mounting equipment is indispensable for the realization of the micro bonding of bare chips in high quality.
Our technologies contribute to making improvements in productivity in the key device manufacturing field, which continues to progress day by day.
Our support includes the following:
Repair, sales, and replacement of parts
Production support, delivery of products, modification
Packing, relocation, starting up of products
Various other maintenance services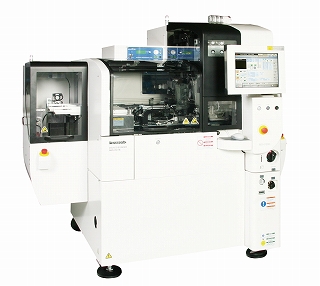 Dispensing System
For bonding of electronic parts, etc., silver pastes, bonds, soldering, etc., are used.
The methods include the printing method and the dispensing method. We are marketing Nordson Asymtek equipment, which has sales achievements throughout the world for coatings and underfilling with the dispensing method.

For coating, the dispensing systems are used at present for moisture-proof material coating work, etc., on substrates that use dipping, brush-coating, or aerosol spraying.
The advantages are as follows:
Since the coating system is free from scattering, the disposal amount of solvent is less.
Uniform coating is possible even with the non-solvent type coating materials.
Useless waste solution can be reduced as much as possible.

For underfilling, system application is becoming more popular for flip chip packages or CSP packages. The method that blows resins in dots to be coated while not contacting the substrate, unlike the conventional nozzle application method, enables the coating of micro spaces, and the stability in the coating amount and coating speed have been improved dramatically. The system is capable of minimizing resin spread, and the effect prominently appears in dense circuit patterns.